---
---
---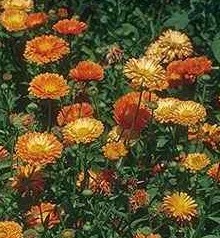 Calendula has a long history in magical lore. It is bound to Sun and Fire. It is believed to be useful for prophetic dreams, protection, respect, and psychic powers, and to be of benefit when legal matters arise.

For protection, hang garlands of Calendula over entry doors to prevent evil from entering. Scatter petals under the bed for prophetic dreams and for protection while sleeping.

For legal matters, carry Calendula petals in the pocket for a favorable outcome in court matters or meetings related to the law.

For respect and admiration, put a mesh bag of Calendula petals under the faucet when running bath water.

Legend has it that if a woman touches Calendula petals with her bare feet, she will understand the language of the birds.

There is also an old Love recipe that calls for mixing dried flowers of Calendula, Marjoram, Thyme, and Wormwood, and grinding them into a powder. Simmer in honey and white wine, and then rub over the body to induce prophetic dreams about your future husband or wife while chanting your Wishes. If the candidate is good to you in the dreams, they will make a loving spouse, but if they treat you badly in the dream, they will be disloyal and uncaring.
Custom Search
---
---
These pages are excerpted from our sister site, Gardens Ablaze. For more information on cultivation, medicinal, and culinary uses, please see the Gardens Ablaze Herb Section.
Herb Profiles

---