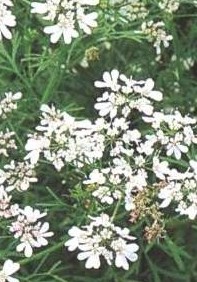 Coriander is bound to Mars and fire. Since ancient times, it has been used as an aphrodisiac for love and lust. Use sachets carried on the person, or powdered seeds in warmed wine to attract the one you love - or to find common ground with someone you don't care for right now.
Coriander is a gardener's herb, and growing it or hanging it in all four corners of the house is said to offer protection (try it for unwanted guests too). Crush and burn as an incense for the same effect.
Drink a Coriander Tea or use it in a ritual to ease the pain of a relationship break-up, and then put it in your pillowcase for safe, protected sleep.
For centuries, Coriander has been associated with immortality, and I have found some references to it as a magical fertility herb. However, I have no further information. If you have information related to this subject, please email me and I will credit you on this page.
Custom Search
---
---
These pages are excerpted from our sister site, Gardens Ablaze. For more information on cultivation, medicinal, and culinary uses, please see the Gardens Ablaze Herb Section