---
---
---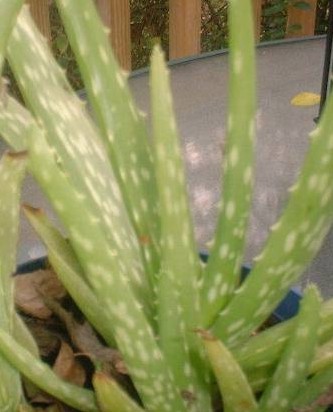 Aloe is bound to the Moon and water. In Africa, leaves have traditionally been hung in doorways to attract luck and protect from evil influences. A charged Aloe Vera plant growing in the kitchen is thought to protect against accidents involving fire, burns, or heat, particularly in the area of the kitchen. A potted aloe plant growing in the workplace is believed to bring good luck.
Cleopatra is said to have used fresh aloe gel every day to preserve her beauty, and Napoleon's wife, Josephine is reputed to have used a mixture of aloe and milk for her skin. The effects of aloe on the skin for cuts and burns have been known for centuries. No surprise, then, that aloe has been linked magically with beauty and healing. Snap a leaf and slice it open to use for either purpose, or mix with olive oil, milk, or vitamin E.
Custom Search
---
---
These pages are excerpted from our sister site, Gardens Ablaze. For more information on cultivation, medicinal, and culinary uses, please see the Gardens Ablaze Herb Section.
Herb Profiles

---