---
---
---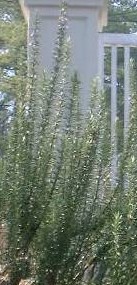 Rosemary is bound to Sun and Fire. It's presence on the body is said to aid in memory and learning. Try putting a sprig in your pocket before an examination, meeting, or other situation where mental clarity is important.

Rosemary is also thought to be a protective herb. It can be made into a protection wreath, and can be placed above the door or under the bed for protection from evil. Try it in a dream pillow or put it in a pillowcase to protect and ward off bad dreams.

As a cleansing and purifying agent in magic, Rosemary is one of the more important herbs. It can be used in herbal baths - place it in cheesecloth or a coffee filter tied with string and place it under the running bath water. If time is a factor, use it to wash the hands instead of the ritual bath in advance of performing rituals.

Rosemary was associated with love, friendship, and remembrance in Medieval times. It was used in weddings as a symbol of love, and was tossed into graves to signify that the deceased would be remembered. Try burning it as an incense for these purposes. Burning also is believed to help with healing, especially if burned with Juniper.

Lastly, and not surprisingly, the fragrance of Rosemary is said to be of benefit as far as emotional spirit, youthful outlook, and pleasant memories. Use it in potpourris and sachets for these purposes.



---
---
These pages are excerpted from our sister site, Gardens Ablaze. For more information on cultivation, medicinal, and culinary uses, please see the Gardens Ablaze Herb Section
Herb Profiles

---