---
---
---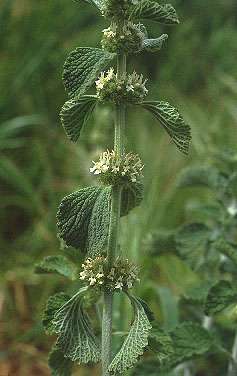 In magic, Horehound is bound to the Earth and to Mercury. It's name is a derivative of Horus, the Egyptian God of sky and light. It can be burned, used in sachets, or drunk as a tea for it's magical effects.

Horehound can be used in a sachet carried on the person, and is believed to protect against spells or sorcery.

As a tea, Horehound is felt by some to increase mental clarity and strength. Try some on Monday morning.

Burned as an incense, Horehound is believed to honor Horus, the God of sky and light, and to increase protection from evil forces.
Custom Search
---
---
These pages are excerpted from our sister site, Gardens Ablaze. For more information on cultivation, medicinal, and culinary uses, please see the Gardens Ablaze Herb Section
Herb Profiles

---