---
---
---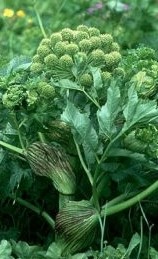 Angelica is a plant whose name has been surrounded by myths and legends for centuries. It's Latin name is Angelica Archangelica, and it is said to bloom every year on May 8, the feast day of The Archangel Michael. It is bound to the Venus and to fire.

Angelica is used magically as an herb for protection and exorcism. Grow it in the garden to protect the home. Make necklaces of the leaves, or carry the root in your pocket for protection. The dried leaves are burned in exorcism rituals.

To ward off evil spirits inside the home, sprinkle in all four corners of the house. This, and the burning of the leaves within the home, is also said to give a joyful outlook to the residents of the home.
Custom Search
---
---
These pages are excerpted from our sister site, Gardens Ablaze. For more information on cultivation, medicinal, and culinary uses, please see the Gardens Ablaze Herb Section.
Herb Profiles

---