---
---
---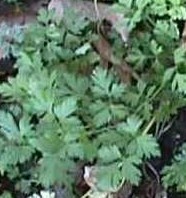 Parsley is bound to Mercury and air. In ancient times, it was associated with death and funeral ceremonies. Today, magically speaking, Parsley is associated with lust, good luck, communicating with other planes, protection, purification, fertility, reincarnation, health, strength, vitality, divination, passion, meditation, rituals for the dead, and happiness.

Parsley is used in purification baths by placing a mesh bag under the tap water and running the bath water over it. Use a small amount of dried herb as an incense with incantations related to physical well-being and happiness, and in rituals for the dead, including communication.

Make a Tea of parsley and call the powers of earth, or wear it in a charm or sachet to increase strength, health, protection, and vitality, and to evoke lust and passion. Parsley on the plate is supposed to protect the food from contamination, and eating it is said to increase fertility and lust. A wreath of parsley worn on the head is supposed to delay inebriation.
---
---
These pages are excerpted from our sister site, Gardens Ablaze. For more information on cultivation, medicinal, and culinary uses, please see the Gardens Ablaze Herb Section
Herb Profiles

---