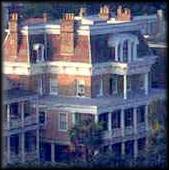 Charleston
The Battery Carriage House Inn
Located on a peninsula where two rivers converge into Charleston Harbor (locations such as this are believed to magnify paranormal activity), and with a rich history starting with the Indians and moving through the Revolutionary and Civil Wars, the picturesque town of Charleston is a natural for unexplained phenomena. Despite its beauty and antebellum charm, Charleston has seen more than its share of death, largely due to man and his violence, but also partly due to the violent forces of nature, including hurricanes, fires, and earthquakes. As such, it is difficult to choose just one haunted place in Charleston to write about, because there are haunted places on just about every street corner in this town, especially in the Battery area overlooking Charleston Harbor.
However, we have to begin somewhere, and as such, one of the top must-see places for ghost hunters in Charleston would have to be the Battery Carriage House Inn, a bed and breakfast created out of an old circa 1840 carriage house. Two well-documented ghosts haunt this Inn, and many reliable witnesses have reported sightings, even in recent times.
The hauntings appear to be centered in two rooms with two different spirits of different eras each claiming a space as its own. The more benign of these two entities resides in Room 10 of the Inn, and apparently only appears when a single unmarried woman occupies the room and retires for the night. The spirit will then appear, sometimes apparently seeming to get into the bed. When the startled woman reacts, the entity will courteously and silently leave, disappearing into the wall. As far as we know, nobody has a clue who this entity is, but he has been described as short and slightly balding.
The second and more sinister of the two entities at the Inn is what appears to be a headless Confederate soldier in a wool coat who marches at the foot of the bed in Room 8 and sometimes hovers over the sleeping occupant. Some report a gust of wind just before seeing the apparition, and most report that he makes eerie guttural moaning noises as if in pain. Others have related reaching out and touching the coarse wool fabric of his uniform. Once startled, however, this entity will also quickly disappear into thin air.
If any of you have been lucky enough to spend a night in either room 8 or room 10 of the Battery Carriage House, we would love to hear your story! Please either use the message board link below or send us a private email.
The Battery Carriage House Inn is located at 20 South Battery, Charleston, South Carolina 29401. Phone 843-727-3100.

Custom Search
---
---