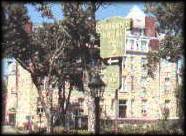 Eureka Springs
Crescent Hotel
The Crescent Hotel, built in the late 1800's, has a long list of supernatural phenomena to it's credit. It has become rather famous for it's paranormal activity, and has been featured on Unsolved Mysteries because of the many reports of odd experiences reported from within it's walls. Many attribute the high activity at this site to the pure, energizing spring water that flows under the building.
The Crescent has changed hands many times over the last hundred years or so, functioning first as a hotel, then as a women's college, and later as a health resort and hospital run by a man with no medical training named Norman Baker. After he was jailed for medical misrepresentation, the building was left abandoned until 1946, when it was restored and turned back into it's original function as a hotel.
The spirits that haunt this hotel are varied, and though there are some very consistent stories, there may be more activity here than just the 4-5 most often reported sightings. These consist of a workman who fell to his death into what is now Room 218, an top-coated gentleman who reads a paper in the lounge, the spirit of Mr. Baker, a nurse who rolls a gurney down the hall, and a young woman who jumped or was pushed to her death from the building. Rooms with the most activity include 218, 202, and 424, with 218 being by far the most active of these. However, if you are not lucky enough to book one of these rooms, there have been plenty of reports of odd feelings, cold spots, and unexplainable sounds from just about every area of this interesting building.
The Crescent Hotel is an absolute must-see if you ever find yourself in the Eureka Springs area of Arkansas. It features a "Ghost Tour" for those interested in delving more deeply into it's ghostly history, and there are reliable reports of paranormal activity on every floor. The Crescent is located at 75 Prospect Avenue, Eureka Springs, Arkansas (800-342-9766).
Custom Search
---
---