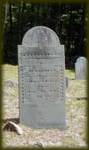 Nashua
Gilson Road Cemetery
If you happen to find yourself in southern New Hampshire at some point soon, do stop in at Gilson Road Cemetery and take a look around, day or night. This small cemetery has been carefully studied by many knowledgeable ghost hunters, virtually all of whom detect a palpable energy at the site. Don't go alone, especially at night because people are prone to freaking out here, with many reports of them hearing or feeling a "get out of here" kind of energy that they feel compelled to obey.
Gilson Road Cemetery is one that will produce reliable swings on a compass needle, and will usually provide photos with unexplainable objects, mists, and orbs in them, and the often reported "sparkles" after taking pictures with a flash are common here. Interestingly, this is the only haunted site that we have found that has reports of a feeling similar to wading in water or a slowness of gait that occurs toward the back of the cemetery when approaching the stone wall that separates the gravestones from the woods behind.
Genealogists have studied the graves in this cemetery with inconclusive results - many of the interred are not listed on any census reports, so there's no way to trace the origins of the place. Impressions of bloody Indian battles are relatively common here, and it is not out of the question that some atrocities occurred at or very near this site. A subdivision called Tanglewood was built across the street from this great haunted site a few years ago, and some say that it diminished the power of the area, but it seems there is still enough to go around for those brave enough. More housing is slated to be built soon which will further dampen the effects of the area, so go there soon if you can!
From Nashua Route 3, watch for signs pointing to Tanglewood Estates - the cemetery is on the right and can be identified by the low stone wall and white gates at the entryway.

Custom Search
---
---