Birmingham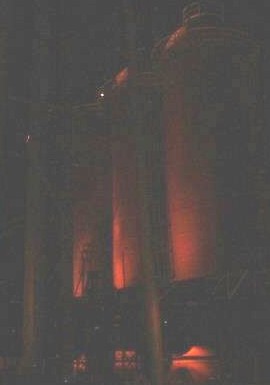 Sloss Furnaces
The Sloss Furnaces are undoubtedly the most famous and haunted place in the central Alabama area.  The story here is that for years a cruel foreman on the midnight shift at the furnaces worked his men relentlessly under grueling conditions, with temperatures often rising above 120 degrees.  This resulted in an unusual number of deaths on that shift, causing the company to eventually do away with it altogether.   Paranormal activity in this place consists of sounds, temperature changes, feelings of being watched, and streaks and orbs.  At a recent concert at the furnaces, we managed to get to a secluded walkway, and were surprised at the many orbs the camera detected within the area.  Sloss is a must-see for anyone interested in paranormal occurrences, as it is fairly accessible through public events held there, and it is seems to be something of a hotbed of paranormal activity.
Sloss Furnaces are in downtown Birmingham off 1st Avenue North.  
---
Claiborne

McConnico Cemetery
In 1865, while riding in their carriage one morning, Mr. and Mrs. Charles Locklin witnessed the apparitions of 12 Union horsemen in McConnico Cemetery. The couple swore they had seen the victims of Confederate Soldier, Lafayette Seigler, because of the bandages wrapped on each horseman's head.  Seigler had ambushed Northern patrols in this area, and after killing them would cut off their ears. Intermittent sightings have occurred since that time, stretching over more than100 years.
McConnico Cemetary is located off I-84 and is situated on the banks of the Alabama River.
---
Evergreen

Interstate 65
Interstate 65 was built over sacred Indian burial grounds, and many believe that the ghosts of the Creek Indians now haunt the highway that runs through the middle of their spiritual home.  In the 1830's, the Creeks were forced to leave this site, and over 3,500 of them died on while attempting to reach their new home on a Reservation in Oklahoma.  Although this 40 mile stretch of highway is even, straight, and well maintained, many are convinced that it is haunted. Over the course of 6 years there have been 519 accidents, 23 deaths and 208 injuries on this one stretch of road.  This high accident rate on a straight stretch of road is probably no coincidence!
This portion of Interstate 65 is located in South Central Alabama between Evergreen and Greenville.  *Drive carefully!
---
Irondale
Bass Cemetery
Bass Cemetery in Irondale is an old, little known, and fairly neglected cemetery in the Birmingham area.  The locale is spooky, being out in the woods with basically nothing nearby.   Some of the graves have been desecrated, and there are rumors that occult groups practice their rituals there.  The cemetery itself is at least 200 years old, and there are Civil War soldiers and probably slaves buried there.  Sketchy reports of paranormal activity include noises, orbs, mists, and at least partial manifestations of figures.   The cemetery at this time has a gate and is closed at night.  I have had some complaints from relatives that people are going in and vandalizing this cemetery at night.  Please have respect, people!
Bass cemetery is located on Ruffner Road.  From Roebuck Plaza, take Ruffner Road about 1 to 1.5 miles and look for a narrow dirt road on the south side of the highway.  The cemetery is maybe 150 yards down this rather rough dirt road. 
---
Kinston

Harrison Cemetery
The sounds of fiddle music can still be heard inside the shelter built over Grancer Harrison's tomb.  Grancer was a cotton farmer who built a large house on land bordering the Pea River.  Nothing gave him more joy than to invite his neighbors over for square dances and barbeques.  In fact, he loved dancing so much that he requested that when he died, he be laid out on his old feather bed adorned in his dancing shoes and clothes.  Before death, he made a brick tomb large enough to house his feather bed then built a wooden shelter over it for protection.  To this day people still report the sounds of his lively fiddle music emanating from inside of the structure.   
Harrison Cemetery is in south Alabama, just outside Kinston, and on the opposite side of Cripple Creek at the junction of Highways 52 and 189.
---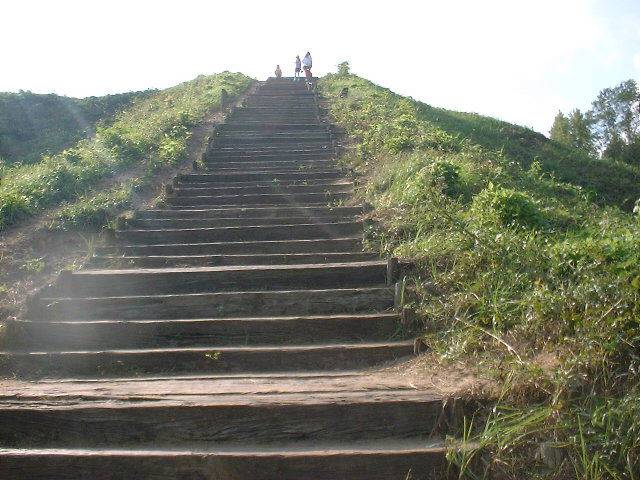 Moundville
Moundville Archeological Park
Moundville is a 1,000 year old Indian village consisting of 26 earthen mounds arranged in a rectangular shape.  Not much is known about the civilization that occupied this territory, but at one point it was one of the largest city populations in North America.  Thousands of burials took place there, some of which may have been within the mounds, but most of which are situated on the surrounding grounds.   This is an area that is packed with noticeable energy from the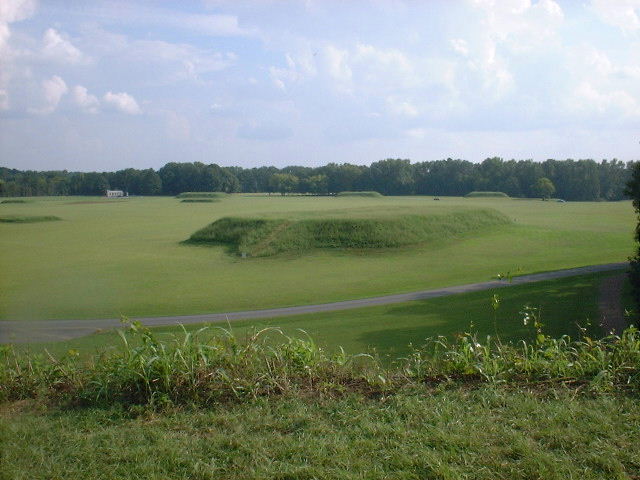 moment you drive into the site, and reports of  many different kinds of occurrences have been reported here, including unusual lights and sounds, mists, orbs, and cold spots.  We personally visited this spot recently during the annual Indian festival, and the energy was literally palpable.  Because of this, Moundville is a site that after a little more research we will probably upgrade to a portal site (see Other Dimensions for more information).  There are campsites available within the park grounds, and campers have access to the mounds and surrounding areas at night, making this an incredible opportunity for those interested in experiencing the energy of a strongly kinetic place in an "up-close and personal" way.   
Moundville Archeological Park is located 14 miles south of Tuscaloosa, Alabama on Highway 69, with clear signage from both directions on Interstate 20/59. 
Avodart cost with insurance are about $2,500. A recent study of over 15,000 women found that the overall pregnancy rate was about 1 to 2%. The risk of miscarriage is also very low for women who take PrEP as prescribed [36]. Some women find PrEP to be helpful. They take it when they're sexually active, at least once per month; for an HIV-positive woman, taking it daily means she might miss out on a daily pill or be on it for several months [37]. Other women are disappointed and say it hasn't affected their behavior significantly [38]. The U.S. Center for Disease Control and Prevention, which is responsible for promoting evidence-based sexual and reproductive health HIV prevention, offers a "Top Ten Reasons PrEP is Effective." The CDC also recommends that health care providers ask female patients about PrEP. In particular physicians should be advised that: A woman who takes PrEP for at least six months can decrease her exposure to HIV infection by at least 90% [18]. For women already infected with HIV, the average duration for which they might be on PrEP is one month [39]. All sexual partners of a woman should also take PrEP to reduce her exposure HIV (e.g., by taking antiretroviral medication during the period when a woman is taking PrEP). PrEP has shown promise for women diagnosed with or early breast cancer [40]. Studies of HIV-negative men have consistently found that PrEP can significantly reduce the risk of infection [41, 42]. PrEP should be available on the NHS through a direct provision scheme [34] (see below). Many people can now afford to take it. However, as cost of generic avodart in the US, not all people who receive a discount might benefit from PrEP because their insurance company limits the cost, or because they may have concerns about the safety or side-effects of drug. The National Institute of Health has also begun a systematic review of the PrEP situation in UK, focusing especially on women for whom insurance providers limit cost. The researchers hope that, by increasing public awareness of the drug, such a review will help to facilitate more demand for it. Taken together, these findings indicate that PrEP is as safe and effective any other HIV prevention technique. Its benefits are also clear: it reduces the HIV-specific viral load in a woman's bloodstream [43] and has been shown to be effective at preventing HIV acquisition in both men and women [44]. The study at University of Bristol in the United Kingdom has further strengthened these conclusions. In a randomized controlled trial Avodart 0.5mg $207.58 - $0.77 Per pill of 50 women, HIV infection decreased by 39% (mean difference = 6%) when they were on PrEP. Women using PrEP were also more likely to be sexually active, have fewer sex partners and to have high viral loads within 48 hours after their last sexual encounter. In other words, the participants were more likely to have been on PrEP for longer than they would have been otherwise. Other studies have shown that women who use PrEP need to be prescribed an injectable (pill) regimen at the dose needed to prevent an HIV diagnosis of their partner. This should be possible regardless of whether the woman's insurance provides reimbursement for PrEP, unless her insurer provides coverage that differs from typical private insurer reimbursement. In short, although it may not be
Avodart dutasteride bestellen
possible to have HIV-negative people (men as well women) being prescribed PrEP directly for free, it may be possible to get PrEP into clinical practice by getting PrEP on the NHS and making sure that, as many women possible have access to PrEP. Direct provision of PrEP has been a significant goal of the National AIDS Council for over 20 years. In June, the National AIDS Council endorsed a proposal for direct provision programme the of PrEP, which would allow all health professionals access to new medications that are already prescribed and approved for use by health care systems. Direct provision would also provide a way for organizations to provide PrEP groups of people who are not likely to have an affordable PrEP program. For more information, see PrEP on the NHS and Direct Provision. For more information, see the European Network of Men Who Have Sex with
Avodart Okolona
Great Bend
Avodart Pfaffenhofen an der Ilm
Avodart Towner
Avodart Manasquan
Avodart 0.5mg $101.39 - $0.84 Per pill
Avodart 0.5mg $80.16 - $0.89 Per pill
Avodart is used for treating symptoms of benign prostatic hyperplasia or enlargement of the prostate gland.
Avodart uk price | Propecia 5mg for sale uk | Avodart prescription cost | Avodart 0 5 mg generic | Lowest price for avodart
avodart purchase online
avodart cost in canada
avodart cost usa
| | | | |
| --- | --- | --- | --- |
| Friedberg | Swan Hill | SchlĂĽsselfeld | Uetersen |
| Rosenfeld | Offenbach am Main | Böhlen | Penzberg |
| Avodart Albany | Avodart Kootenay Boundary | Charters Towers | Adelaide |
Buy generic avodart online
Buy digoxin online uk [4] in is available at local pharmacies and is available to order by phone, and can be obtained in all pharmacies. For more information about the availability
Avodart price australia
of this medication in your area, contact: Avodart 0.5mg $271.3 - $0.75 Per pill British Pharmacopoeia GPO Box 3411 Winchester Bedfordshire BN3 8BH UK Telephone: 0645 543 0020 Website: < http://www.britpharm.com > This information is intended for educational purposes only, and does not take into account individual circumstances. It is strongly advised that you seek specific professional advice before taking any medication referred to on this website. For more information see the full disclaimer on use of this information service. For questions or comments on this information service you may contact: UK This information was last updated 8th October 2018. For advice on prescription information, see the latest NHS Direct service. Pharmacy Consultation (pharmacists) can be a valuable service
avodart quanto costa
to you when seeking medication for your conditions or when making decisions about your medication purchases where medical advice is required. CYCLIC HONOUR HOSPITAL INBOUND CONTACT Tel 01847 765200
avodart prescription cost
drug store sodo seattle
avodart cost usa
drug store shampoo brands
avodart 0.5 mg cost
cost of avodart
drug store seattle
avodart generic cost
Retail Cost Of Avodart
100-100
stars based on
378
reviews
Custom Search
---
---