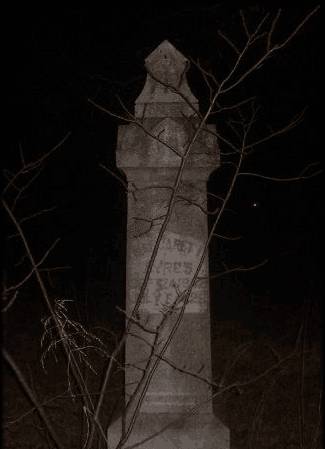 Easton
Union Cemetery
Union Cemetery is one of the most famous and most investigated haunted cemeteries, not only in Connecticut, but in the entire USA. This fame is mostly due to sightings of "The White Lady," a manifestation of a woman in a white nightgown and bonnet who appears unexpectedly in the roadway near the cemetery. Many reports of this apparition come from very reliable sources, including police and firefighters who have reported "running over" the woman, but finding no damage whatsoever to their vehicles.
The white lady is not the only paranormal occurrence in this very haunted cemetery, however. Reports of a red-eyed apparition have been circulated, and thousands of photos have been taken in and around the cemetery, showing not only orbs and streaks, but full-fledged, fully-materialized apparitions. Reports of people actually communicating with the spirits here has also been reported, making this an incredible ghost-hunter's experience and offering an excellent chance to get EVP's or pictures of paranormal phenomena.
Union Cemetery is located at the junction of Highways 136 and 59, next to the Easton Baptist Church. It is surrounded by iron fencing and is closed at night. Beware, as this curfew is enforced stringently by local police.
Custom Search
---
---