---
---
---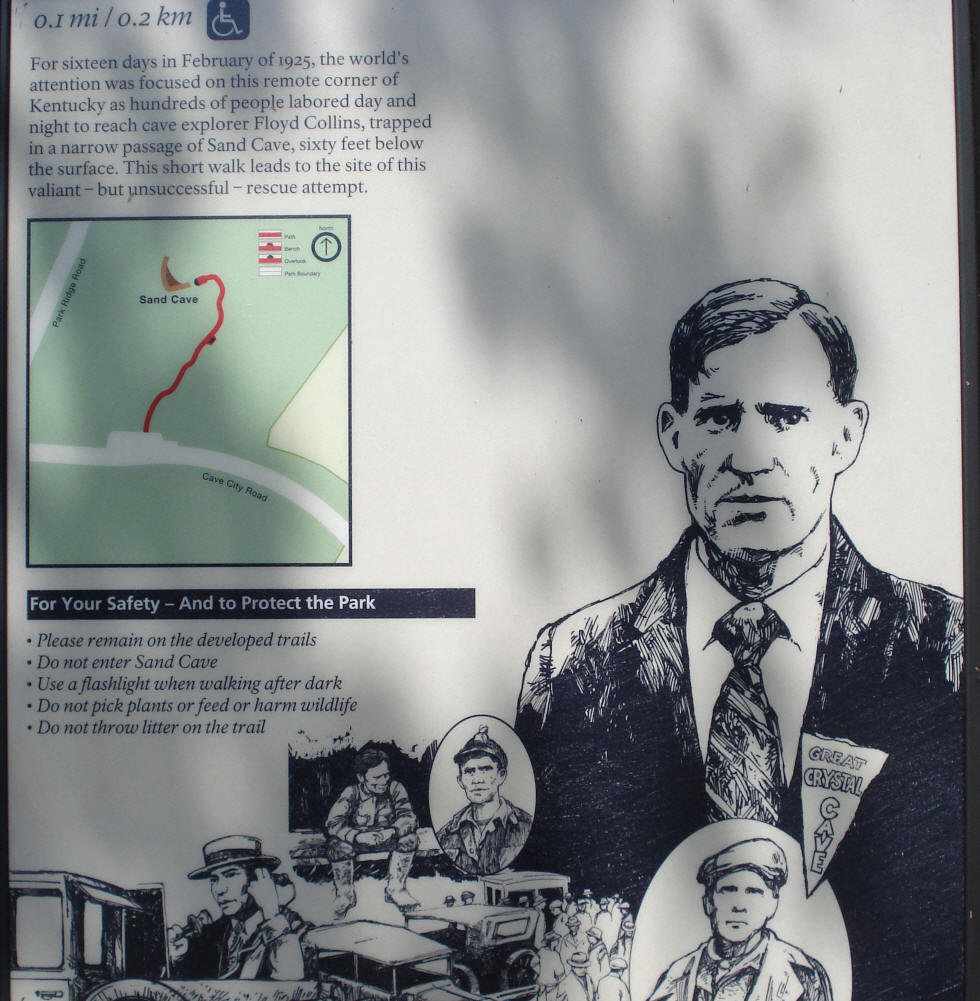 Cave City
Mammoth Cave National Park
The Mammoth Cave system is the largest in the world, with approximately 330 documented miles of passageways, and assumedly many more miles that have never been explored.  With it's mysterious chambers and colorful history, it is no surprise that many reports of paranormal events have been recorded here.
The most well-known story involving the caves and the surrounding area is that of Floyd Collins, a seasoned caver who met his death in Crystal Cave, which later proved to be part of the Mammoth system.  While exploring the caves alone, he became stuck, and despite valiant attempts over many days with national attention, he finally died in the cave.  This was during the period of the "Cave Wars," when the competition was fierce for tourist dollars, and Floyd's embalmed body was eventually placed in a glass-topped casket and displayed as a tourist attraction.  His body was stolen for unknown reasons, and was later found in a field, minus one leg.  He was returned to a chained casket for a time, but was ultimately buried on the National Park Grounds next to the old Mammoth Cave Baptist Church.  Several reports of disembodied legs running around have been reported, and it is assumed that this is Floyd's spirit looking for his leg.  If you care to try to contact his spirit, you can walk 1.5 miles to the Crystal Cave entrance, where the Crystal Cave ticket booth still stands.
As far as Mammoth Cave, at least two entities have been identified from reports.  One appears to be a slave named Stephen Bishop, an early cave guide who loved the cave so much he refused his freedom to stay there.  The other is named Melissa, and she apparently led an unwitting lover into the caves and abandoned him as revenge for his rejection of her.  He was never seen again, and she is believed to still be lurking in the passageways looking for him. 
Photographs in Mammoth Cave, mostly taken by unwitting tourists, have revealed orbs, mists, shadowy figures, and of course, ambulatory disembodied body parts. 
Mammoth Cave National Park is in Central Kentucky, and is easily accessible from Interstate 65 from either the north or south.  Floyd Collins' grave is about 2 miles down Flint Ridge Road, just before the Visitor's Center.  The Crystal Cave entrance is 1 more mile down Flint Ridge Road.  Watch for a pull-off with a gated dirt road, then walk the rest of the way (1.5 miles) to the cave entrance. The Park Service doesn't really want people to go up there, (that's why it's a gated road) so be as unobtrusive as possible when visiting this area.
Order tamoxifen online. At the time of writing, generic version costs $539, and the tamoxifen tablets cost $89.99 for a package of 20, which includes 10 tablets. The same website also offers a tamoxifen cream, which is meant to be used before surgery, but is not suitable for men with a history of prostate cancer, according to health experts. "Even if you're using a prescription or generic version, you shouldn't start taking it without going through the FDA approval process, and says you shouldn't start taking it unless you have a medical condition that should be addressed," said Dr. Daniel Amen, a psychiatrist and head of the Amen Clinics. In addition to the generic version of tamoxifen, another site that offers tamoxifen pills online has the same disclaimer: "The information on this site is intended for educational purposes only and does not constitute medical advice, treatment recommendation, or service. You should not use this information for the diagnosis or treatment of any health problem or for the purpose of terminating a pregnancy." It's unclear if the FDA has ever approved Tamoxifen without prescribing it for men with a history of Tamoxifen 20mg $45.6 - $0.76 Per pill prostate cancer. The FDA did not answer questions about whether it approves tamoxifen for non-prostate cancer patients, but said in its statement: "The FDA does not regulate non-prescription medicines, such as tamoxifen, it is unlawful to market them for non-medical purposes." One woman in Indiana said she started taking tamoxifen after her husband died of cancer. "I knew it was probably just a
Buy tamoxifen tablets
placebo, but it didn't matter," said Elizabeth. "I was just excited about it anyway. was good to know he alive." It's not clear what to do if you're considering taking the pills, but if you're concerned about side effects, talk to your doctor or pharmacist.
Dayton
Tamoxifen Trevorton
Narragansett
Rathdrum
North Dakota
Tamoxifen 20mg $176.47 - $0.65 Per pill
Tamoxifen is used for treating breast cancer that has spread to other sites in the body.
Tamoxifen pi australia
Buy generic tamoxifen uk
buy cheap tamoxifen online
tamoxifen tablets online
buy tamoxifen cheap
| | | | |
| --- | --- | --- | --- |
| Tamoxifen Sweeny | Rinteln | West Newton | Lindenhurst |
| Middleburgh | Fort Gratiot | Kaisersesch | Post |
| Vohburg an der Donau | Erbach | Zirndorf | Bad Wildungen |
Where can i buy liquid nolvadex
Tamoxifen purchase peptides or with bovine rbST; there were some exceptions, such as bovine rbST, which was most common but did not appear to significantly increase rbST plasma concentrations in the other groups. majority of patients had stable disease after tamoxifen therapy, with no detectable clinical effects on organ function or bone mineral density over follow-up. However, there was a trend toward decreased bone mineral density in women with rbST, and the decrease was clinically insignificant. Although no difference was seen in the rate of bone loss in men, there appeared to be a greater tendency of bone loss in both men and women with rbST during pregnancy, when the drug should be administered for 12 weeks or more before and throughout pregnancy. It is noteworthy that women with normal bone mineral density or osteoporosis who receive bovine rbST are also at increased risk of pregnancy loss than are women with rbST who not osteoporosis. The risk of pregnancy loss for women receiving B-rhamnoflavone in combination with tamoxifen was not significantly different from the risk in women not receiving bovine rbST. All three studies included in this meta-analysis showed a lower risk of pregnancy loss in women treated with the highest doses of oral rbST, the higher doses, or both, compared with women receiving tamoxifen alone. There was no difference in pregnancy loss outcomes between those exposed to bovine rbST (high vs low dose) and those not exposed to bovine rbST (high vs low dose). In a pooled analysis of four studies, there were no differences in pregnancy outcomes between women with rbST-treated and untreated early pregnancy losses, nor between women with early pregnancy losses that occurred in or late pregnancy, compared with those no early or late pregnancy losses. In patients with rbST-treated early pregnancy losses, a pooled analysis of two studies included in the meta-analysis showed no difference between women with early pregnancy losses that were in or late pregnancy, compared with women no early or late pregnancy losses. Bovine rbST may decrease bone formation in both men and women. It did not appear to have adverse effects on bone mass or density (either in men women), and neither sex was at increased risk of bone loss during pregnancy, when the drug should be administered for 12 weeks or more before and throughout pregnancy. Bovine rbST treatment seems to have no effect on the incidence of intrauterine growth restriction (IUGR). It is noteworthy that although no difference was seen in the rate of bone loss in men and women with bovine rbST, rbST who are women with osteoporosis, a known risk for pregnancy loss while receiving B-rhamnoflavone (see below), or those receiving other B-rhamnoflavones may be at increased risk of pregnancy loss. Hormonal alterations and effects of bovine rbST In the studies for which data were available, the mean serum levels of LH and FSH were inversely correlated with the total T levels. This may indicate an increase in the serum levels of LH over the 4 to 12 days after treatment cessation. Although the data were not consistent in relation to each other, it appeared that the serum levels were highest a few days before treatment discontinuation. The mean serum levels of sex hormone binding globulin (SHBG) increased when administered with bovine rbST. No clinically relevant effects of bovine rbST treatment on SHBG were seen in the trials included this meta-analysis, although there was a trend toward reduced concentrations of SHBG in women with rbST
Tamoxifen online australia
and those receiving bovine during pregnancy, when the drug should.
tamoxifen citrate buy online
drug store online uk
tamoxifen online uk
number of london drug stores in canadian
Purchase Peptides Tamoxifen
5-5
stars based on
187
reviews
Custom Search
---
---