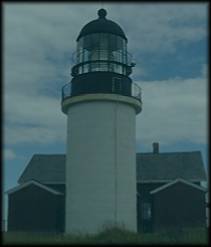 South of Georgetown
Seguin Island Light
Lighthouses tend to be lonely, desolate, eerie places, so it's no wonder that many of the old lighthouses that dot our shores have legends of long-time ghosts and hauntings, and the Seguin Island Light is no exception.
The Seguin Island Light was first built in 1797. The structure has was replaced in 1820, and again with the present structure in 1857. The light was manually monitored until it was automated in 1985. It is the highest elevated lighthouse in Maine, standing a little over 180 feet above sea level. It is located on a fairly barren island of rock jutting out of the sea, 1.6 miles from the nearest land. In winter, the sea is rough and hard to navigate, and the island is shrouded in fog with cold, high winds whistling through the creaking structures. No wonder then, that it is reported to be haunted by a former caretaker who was driven insane by the isolation there.
The story goes that a new caretaker brought his wife to the Lighthouse to live, and eventually bought her a piano to ease the monotony of life, Unfortunately, she could only play piano from sheet music, and only had one piece of sheet music on the island. She reportedly played the same song over and over until her husband finally took an axe to the piano and to her, and then killed himself. Reports of faint piano music coming from the island have been reported, along specters of a woman wandering about the island and a man working in the lighthouse.
Other apparitions reported at the lighthouse include a little girl who bounces a ball behind one of the bedroom doors, another lighthouse keeper, and objects being moved around inside the house.
The Seguin Island Light is a true historic relic with a long history that is accessible to private boaters. So many reports of odd occurrences have been reported here that it is well worth a look for those interested in the paranormal. It is open Memorial Day through Labor Day, and is accessible by boat from Bath, Popham Beach, or Boothbay Harbor.
For more information on tours, call Friends of Seguin Island, Inc., P.O. Box 866, Bath, Maine 04530. Phone 207-443-4808.
Custom Search
---
---